Window and Door Awnings Available in Select Counties in Pennsylvania
We all love the natural light from our windows. On a hot day, however, that sunlight can heat up your room, and constant sun exposure can lead to faded spots on your carpet, walls, and furniture. Protect your interior with a window or door awning from Designer Awnings. We serve Berks, Lackawanna, Monroe, Carbon, Northampton, and Lehigh Counties in Pennsylvania, allowing our clients to enjoy the sun in comfort without the fear of ultraviolet damage to the inside of their homes.
Designer Awnings' products are made by Sunesta, a world-renowned leader in awning manufacturing known for going above and beyond industry standards. When you invest in a Sunesta awning, you can rest assured you're getting a reliable product that will last for years to come.
Backed by a lifetime frame warranty, Sunesta awnings also come with a range of excellent features for improved toughness and protection. For instance, its Smart PVC is a cable coated in a durable material that keeps it from rusting, chafing, or tangling while it works to retract your awning. Meanwhile, Smart Mount, pull-up, and storm strap kits keep your awning secure and safe from the elements.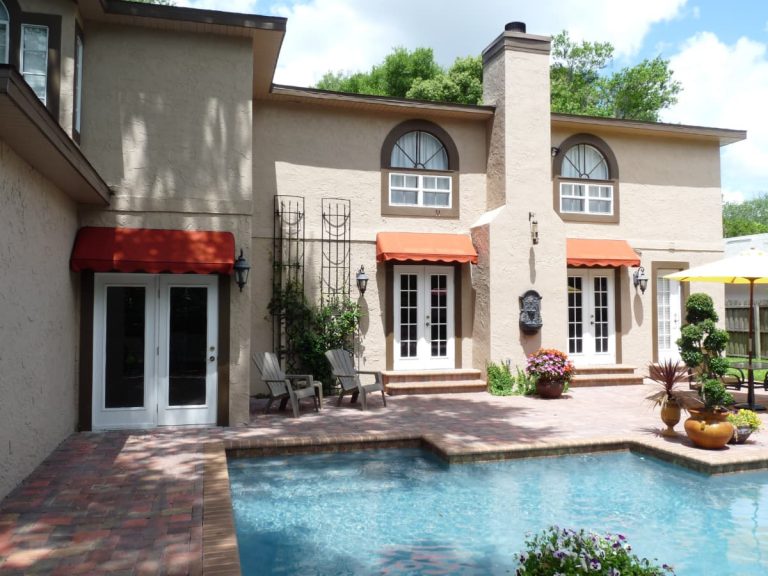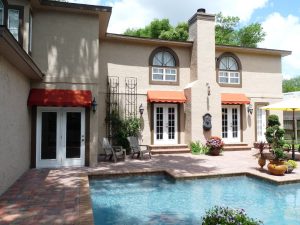 The Sunbrero is the ideal choice for anyone looking for stylish, classy sun protection. It comes in three different shapes, including rectangular, elongated dome, and fully round. Each shape comes with your choice of two to five ribs. It's also customizable in terms of the coverage it provides, as noted here:
7-ft. maximum projection (round profile)
24-ft. maximum width (rectangular profile)
Keep in mind that the minimum and maximum sizes may differ based on the awning's shape and the number of ribs supporting it. Get in touch with Designer Awnings with any questions you have about size limits for the different profiles available.
The Sundrop is Sunesta's most versatile window awning model. This modern cantilevered design can be opened at a variety of angles. Extend it completely or fold it down over your window to block all light. Then, automatically or manually retract it to let the sunshine into your home or building. The Sundrop's dimensions are also fully customizable in both directions, as explained below:
Projection of 2-5 ft.
Width of 2-18 ft.
Opportunities for Customization
When shopping for awnings, it's important to find the perfect fit in size, color, and design for your unique space. That's why Designer Awnings offers almost unlimited customization for all Sunesta awning models. Our frames come in four different colors, including white, beige, clay, and brown, in order to best match your home and trim. What's more, we offer 134 different fabric options to select from, as well as the choice of how you'll mount the awning. With Designer Awnings, you'll have no problem customizing the perfect awning for your window, door, or porch.
Your Window or Door Awning Awaits
Don't let the sun fade your interior and overheat your rooms. Instead, protect your windows and doors with products from Designer Awnings, which serves Berks, Lackawanna, Monroe, Carbon, Northampton, and Lehigh Counties in Pennsylvania. To learn more about custom Sunesta window and door awnings, contact us today and ask one of our knowledgeable representatives for a free estimate.