Retractable Shades And Patio Screens in Pennsylvania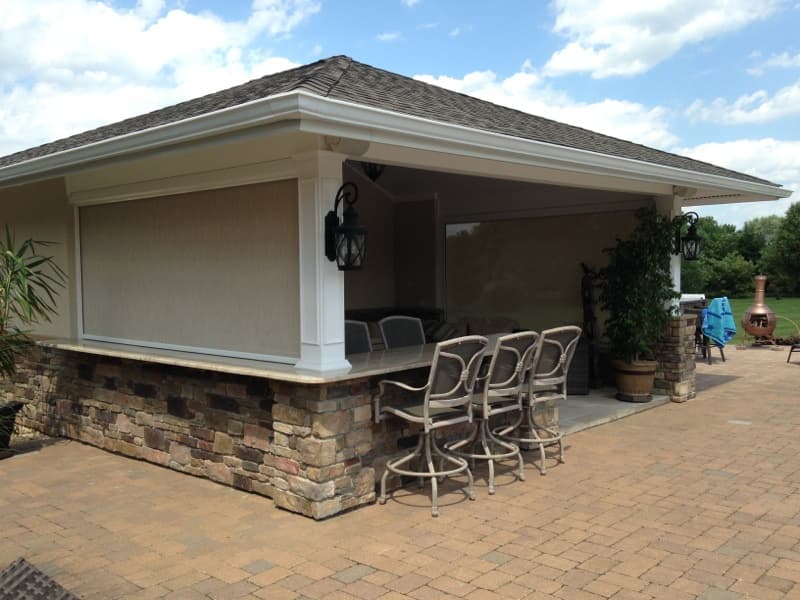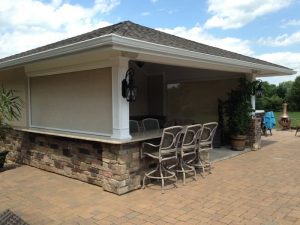 A lot can keep you from enjoying your patio or porch – insects, weather, lack of privacy – but it doesn't have to be that way. Imagine turning your patio into an oasis where you can relax and entertain guests with ease. A custom, retractable patio screen from Designer Awnings can give you the sun, weather, and insect protection, as well as the privacy, you've been looking for. Based in Allentown, Pennsylvania, we provide homeowners and businesses in Berks, Lackawanna, Monroe, Luzerne, Carbon, Northampton, and Lehigh Counties with shade solutions that are versatile and tailored to meet their individual needs.
The Sentry Retractable Patio Screen
A variety of fabric options and mounting methods make The Sentry retractable patio screen by Sunesta one of the most versatile and flexible choices for creating a comfortable outdoor space. Choose from bug screens that keep out pests, solar mesh for sun protection, opaque fabrics for privacy and light control, and clear vinyl windows that protect against rain without obstructing your view. Each screen can be custom sized up to 18 feet wide and 12 feet tall. Mounting options include surface mount, inside mount, distance mount, and recessed mount. The Sentry is motorized and can be controlled by its wireless remote. It also has an exclusive rail design that seals out weather and pests while allowing flexibility to prevent binding under wind load. The Sentry frames come in white, beige, clay, brown, and bronze. For more information about The Sentry retractable, captured edge screen or to set up an appointment for a free in-home quote, give us a call at 610-443-7515.
The Sunroll Retractable Patio Screen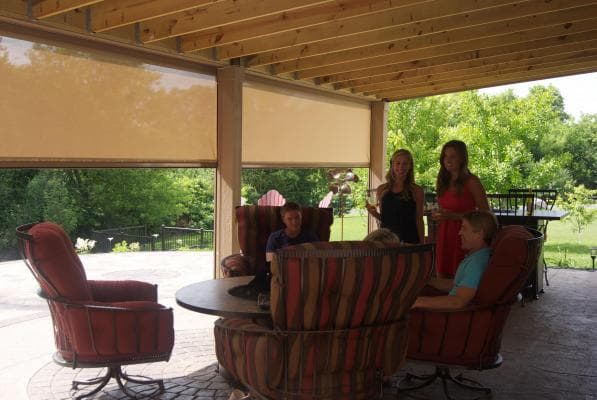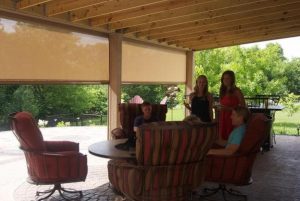 The Sunroll by Sunesta gives you complete vertical control over how much sun enters your covered outdoor space. The Sunroll can be custom-built up to 20 feet wide by 12 feet tall, and it can be designed for manual operation or motorized operation with wireless remote. The Sunroll can be used as a free hanging unit which comes with a built in weighted bar or you can have it ride down a rod or cable system to prevent it from blowing in the wind. The Sunroll can be fitted with an aluminum hood or with a Sunroll SmartCase, which helps keep the shade in excellent condition and provides easy access for maintenance. The Sunroll offers a choice of 4 different frame colors, including white, beige, clay, and brown. For the Sunroll, Sunesta also lets you choose from more than 190 colorfast acrylic fabrics in striped and solid designs as well as numerous shade fabric styles. Get a free in-home estimate for The Sunroll retractable screen today.
What Makes Designer Awnings Different?
Designer Awnings is a family-owned, locally-focused company with over 20 years of experience serving our customers and community. We've partnered with Sunesta, a world-class awning and shade manufacturer, to bring our customers the very best in custom shade solutions. Every screen or awning we install is designed by a team of experts, and we pride ourselves on offering superior communication and customer satisfaction. We believe your patio, porch, or backyard space should be comfortable for you every time you step out to enjoy it.
Order Your Custom Retractable Patio Screen Today
Get the sun, insect, rain, or privacy protection you've been wanting with a custom, retractable patio screen from Designer Awnings. We provide Berks, Lackawanna, Monroe, Luzerne, Carbon, Northampton, and Lehigh Counties with custom retractable shades that are tailored to meet the needs of any home or business. Contact us to find out more, or request a free estimate.