Courtyard Awnings in Allentown, Pennsylvania
Relax in comfort with an aesthetically pleasing courtyard awning that protects against rain and overbearing sun. Whether you enjoy your morning cup of coffee in your sunroom or entertaining friends and family out on the deck, The Suncover or The Sunplus can help keep you and your crew more comfortable. Serving Berks, Lackawanna, Monroe, Carbon, Northampton, and Lehigh Counties in Pennsylvania, Designer Awnings has solutions to fit your sunroom, pergola, and patio.
The Suncover Retractable Shelter
Chat easily with loved ones without the harsh glare of the afternoon sun in your eyes. Designed to install overtop an existing structure, The Suncover awning provides shade and weather protection. Add it to your sunroom to keep your favorite relaxation spot cool in the summer heat, or install one over your pergola to shade you and your family from unpredictable outdoor conditions. With a retractable awning over your patio set, there's little chance of your backyard barbecue being called on account of the weather.
The Sunplus Retractable Shelter with Rain Gutters
Get the coverage you need to truly appreciate your go-to outdoor space with The Sunplus retractable shelter, a versatile solution for many homeowners. Designed to install as a freestanding unit against a wall or over an existing outdoor structure, this retractable awning delivers shade and protection from the elements. Thanks to integrated rain gutters and durable fabrics, it helps manage water runoff in inclement weather and offers additional support for long-lasting use.
Custom-Made Awnings to Fit Your Space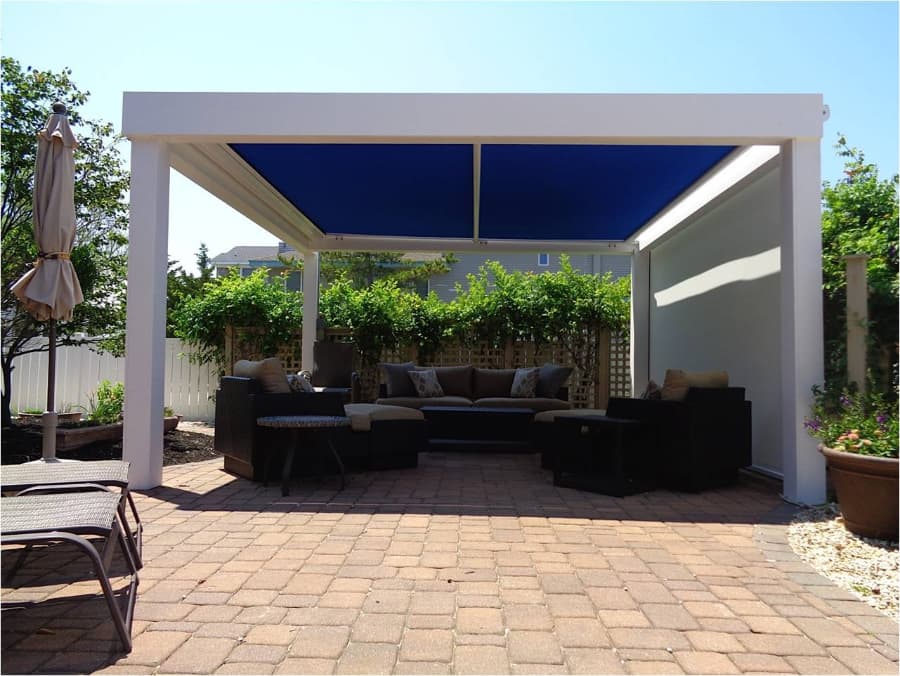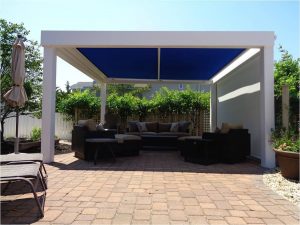 Get the coverage you need without obstructing your view or clashing with your décor. With the ability to join multiple units together, it's easy to find a style that fits your home perfectly. From controlling sun brightness to protecting your guests and furniture from the elements, The Suncover or The Sunplus courtyard awning can benefit your space in multiple ways, including:
Furniture/upholstery protection: Prolong the lifespan of your patio set, curtains, and pillows with fade- and weather-resistant protection.
Energy savings: A cooler sunroom means lower utility costs in the heat of the summer.
Brightness control: A little extra shade makes it easy to enjoy the view surrounding your home.
Extended living spaces: Greater coverage helps ensure you'll be able to use the patio or sunroom more throughout the year.
Smart retraction: Wireless remote makes it easy to adjust your level of coverage.
Seamless coverage: Connector systems offer secure, gap-free protection.
Personalized style: Choose from a broad collection of fabric and frame colors to coordinate with your home's exterior and furnishings.
Low maintenance: Durable frames and fabrics are made to last and allow for easy care.
Quality craftsmanship: Our awnings are built with attention to detail for long-lasting durability.
Warranty: Your frame, fabric, and motor are covered.
Schedule an In-Home Estimate with Designer Awnings
Beyond curb appeal, a courtyard awning can help you relax in comfort. Manufactured from Sunesta, our awnings bring form and function together in a way that suits your space and your taste. The team at Designer Awnings proudly serves homeowners in Berks, Lackawanna, Monroe, Carbon, Northampton, and Lehigh Counties with high-quality, stylish awnings and accessories. For more information about how we can enhance the look and feel of your home, get in touch with us today.