The Sentry Retractable Captured Edge Screens in PA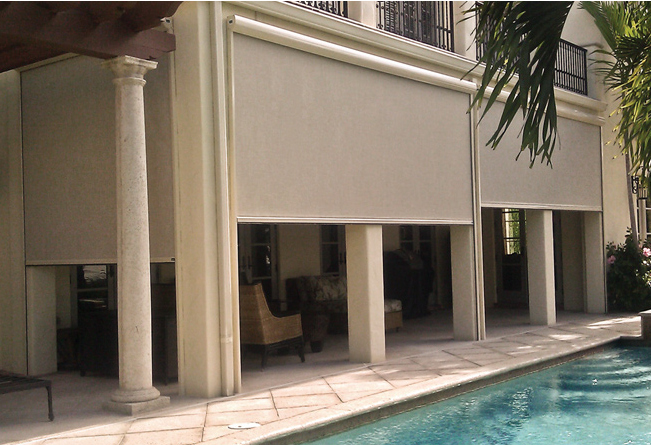 Your patio is a place where you can relax and unwind while enjoying the beautiful weather. It can serve as a little oasis in your own backyard, so maximizing that space to feel more comfortable is important. Serving Berks, Lackawanna, Monroe, Carbon, Northampton, and Lehigh Counties in Pennsylvania, Designer Awnings offers The Sentry retractable screens. Versatile and flexible, these retractable patio screens give you the chance to take full control over your outdoor space. Learn more about The Sentry with Designer Awnings.
Choose the Right Retractable Screen for You
At Designer Awnings, we offer a variety of fabrics and mounting methods so that you can better optimize your patio space depending on its most frequent uses. The Sentry retractable screens are conveniently remote control-enabled, so you can easily control how much sun or shade you want on your porch. Our retractable screens are great for a multitude of uses, including:
Insect protection: The mesh option is for customers who want to keep bugs out while still allowing airflow.
Shade: Solar mesh is used to keep harsh sun rays out and control the wind.
Weather: A clear window option is for customers who want to utilize their patio space year-round, even during cold weather.
Privacy: Any fabric option we have will provide enough privacy for your patio, so you can feel secure.
Each of our retractable screen options features an exclusive fabric retention system, so The Sentry will hold up well against the elements. Designer Awnings is ready to help you create the perfect backyard space with our quality engineering and seamless service.
Additional Features
The Sentry retractable screens have a list of features that will make your patio feel like the perfect vacation spot right from your home. Constructed with a weatherproof brush, The Sentry creates a seal to deter rain or snow from entering your space while you lounge. Our retractable screens also come with a removable rail cover for easy maintenance without having to disassemble the entire unit.
The Sentry's exclusive rail design uses a floating track to keep weather and pests out while letting fresh and cool air flow in, making it easy to relax in your backyard patio at any time of the year. It also features a flex design that prevents binding under heavy wind loads, so you can feel confident that your retractable screens will stand up to most any weather that comes your way. Designer Awnings is here for our customers to ensure that their patio space is functional, relaxing, and made for enjoyment.
Call Designer Awnings Today
For over 22 years, Designer Awnings has been working with valued customers throughout Berks, Lackawanna, Monroe, Carbon, Northampton, and Lehigh Counties to create outdoor spaces they can truly enjoy. Our family-owned business is dedicated to providing customers with friendly service as well as quality design and construction. If you're someone who's looking for a custom awning or retractable screen for your backyard, contact us today to schedule an appointment for a free home estimate.
Join the Hundreds of Satisfied Customers
Who Love Designer Awnings.