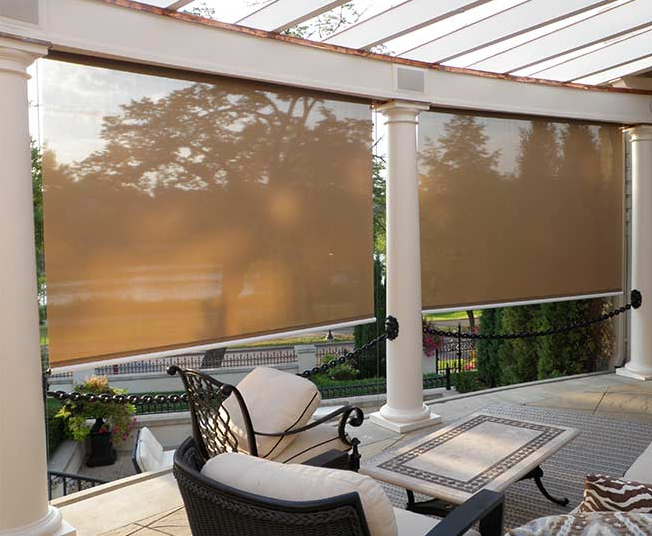 The Sunroll Retractable Screen in Allentown, Pennsylvania
Residents who desire complete protection from the sun's harmful UV rays can achieve it with high-quality retractable screens from Designer Awnings. For over two decades we have been providing residents in Berks, Lackawanna, Monroe, Carbon, Northampton, and Lehigh Counties with top-of-the-line retractable screens, including The Sunroll by Sunesta. Learn more about The Sunroll options and how you can take back your outdoor space.
Our Selection of The Sunroll Retractable Screen
Outdoor spaces are wonderful additions to any home and are meant to be enjoyed by family and guests. The sun's sometimes overbearing heat and powerful rays can make enjoying outdoor spaces difficult and even potentially dangerous. Courtyard awnings are an excellent way to combat these concerns but may not always provide total sun protection.
The Sunroll offers clients complete vertical sun protection of their choosing. Available in both motorized and manual options, clients can dictate how much sunlight shines on their outdoor living space. Designer Awnings offers The Sunroll in multiple customized sizes, with widths up to 24 ft and heights up to 12 ft. Our selection of The Sunroll retractable screens includes:
The Sunroll with Weight Pipe: The Sunroll model features the option of a one-piece aluminum hood for added fabric protection. Also, a stainless steel rod kit completes this model, offering weight pipe retention.
The Sunroll with Drop Bar & Cables: With the option of being mounted on the wall or ceiling, this model features a sleek stainless steel cable system, which helps keep the powder-coated bar secure from moving during breezy conditions.
The Sunroll with Drop Bar & Rails: Available in both round and square options, powder-coated rails are mounted to the wall with a distance bracket, allowing proper airflow between the fabrics and the mounting surface.
The Sunroll Smartcase with Drop Bar & Cables: This retractable screen model features a stainless steel cable system that offers a sleek-looking design. Clients can choose from either a square or rounded design that can be wall or floor-mounted.
The Sunroll Smartcase with Drop Bar & Rails: Elect to have this retractable screen rest atop the rails thanks to the screen's distance bracket, which is mounted to the wall. Another feature of this model is its versatility since it can be mounted as an inside or recessed mount with the rails mounted directly to the column.
The Sunroll Smartcase with Drop Bar, Rails, & Arms: Give your screen added function with the addition of 24-in arms. These arms will allow clients to protect their tall, glass windows from the sun's rays while keeping their view unobstructed.
Available Style Options
At Designer Awnings, we are dedicated to helping our clients make the most out of their outdoor living area, providing quality sunshade solutions that add style and function to any space. The Sunroll is no exception. Made with Armorcoated frames, clients can choose to have their screen's hardware displayed in a variety of colors, including:
To help make their screen fit their home's aesthetic, we offer clients more than 190 colorfast, stripped, and solid awning fabrics to select from. And to cater The Sunroll retractable sunscreen to our client's lifestyles, we offer the following optional features:
Wireless motor operation: Enjoy the convenience of complete sun control at the push of the button with a handy remote control option.
Remote controls and auto sensors: Clients can enjoy even more control over their retractable sunscreen with the added convenience of auto sensors.
Aluminum hood with weather seal: The Sunroll screen remains completely protected from the outside elements, ensuring it maintains its capabilities year after year.
Multiple mounting brackets: The multiple mounting brackets will not only ensure your screen is mounted securely but also held securely exactly where you want it.
Add The Sunroll Retractable Screen to Your Space
Residents in Berks, Lackawanna, Monroe, Carbon, Northampton, and Lehigh Counties, who are looking for an attractive way to take back their outdoor living space, can do so with retractable screens from Designer Awnings. The Sunroll by Sunesta comes with an industry-leading warranty that covers the frame, fabric, and motor. For more information about us, The Sunroll, or our other excellent products, including awnings, please contact us today at Designer Awnings.
Join the Hundreds of Satisfied Customers
Who Love Designer Awnings.