Installing The Sunplus Awning in Berks, Lackawanna, Monroe, Carbon, Northampton, & Lehigh Counties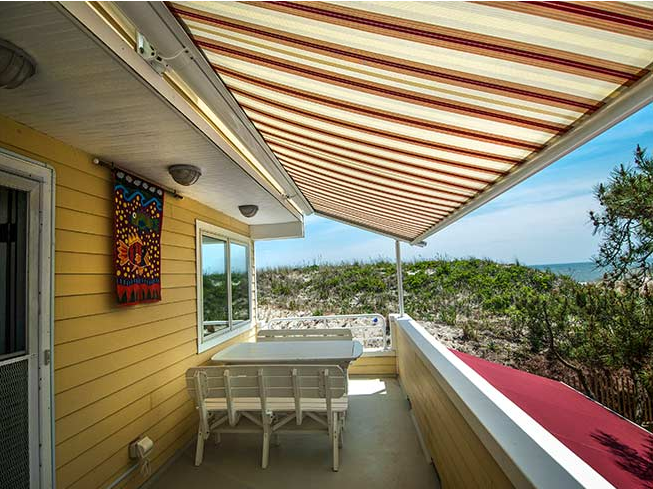 An outdoor living space can be one of the most enjoyable and utilized areas of your home. It's a great space for entertaining guests or escaping into your own private sanctuary. With such a prominent feature of your home, ensure it has the proper protection against harsh outdoor elements with an awning like The Sunplus. Manufactured by Sunesta, this option offers great protection to your outdoor living space and allows you to make the most of your property. Designer Awnings is proud to offer these high-quality courtyard awnings to clients throughout Pennsylvania's Berks, Lackawanna, Monroe, Carbon, Northampton, and Lehigh Counties.
Features and Benefits of The Sunplus
Attractive and functional, The Sunplus awning offers unmatched versatility, as it can be used as a standalone shade provider or mounted on top of existing structures. With single unit widths up to 16' x 23' and the ability to join multiple units, the coverage of this awning is only limited to your space. Given the number of choices of fabrics to choose from, ranging from acrylic to decorative solar screen and waterproof fabrics, you won't have to stress about finding the best style to fit your home.
Some of the fantastic benefits The Sunplus offers to Designer Awnings customers include:
Can Be Installed with Existing Structures
You may have been under the impression that because you already have an existing structure currently residing in your outdoor living space, you couldn't provide this area with any additional protection. However, this is no longer the case, as The Sunplus awning can be mounted on top of existing structures such as a pergola, skylight, or sunroom. Enjoy the protection this high-quality awning offers without having to remove or reconstruct your outdoor living space. If there's ever a time you wish to soak up the sun, The Sunplus' retractable feature allows you to have the best of both worlds.
Superior Protection from Harsh Outdoor Elements
Not only can The Sunplus protect you and your guests from harmful UV rays and heavy rainfall but also your property underneath the awning as well. If you have outdoor furniture directly under the harsh sun, it can begin to fade and the materials can begin to deteriorate over time. By fitting a protective awning over your outdoor living area, you can extend the life of your patio furniture.
Increase the Resale Value of Your Home
Functional outdoor living space is a great selling point if you were ever to list your home on the open market. Installing The Sunplus awning might increase the resale value of your home and make it more desirable to potential buyers.
Potential Savings on Energy Costs
While you're enjoying the benefits The Sunplus provides to your outdoor space, you may not realize the benefits it provides indoors as well. With your porch completely protected by The Sunplus, the sun won't reach the entry point to enter your home. This means your home will remain cooler in the summer months and you may not need to use your home's air conditioner as frequently, thus saving you money.
Install The Sunplus to Your Outdoor Space Today
Protect your outdoor space with the stylish and highly functional The Sunplus awning from Sunesta. For over 20 years, Designer Awnings has provided Berks, Lackawanna, Monroe, Carbon, Northampton, and Lehigh Counties in PA with high-quality awnings for your home and outdoor space. For more information on The Sunplus and other awnings we offer, please contact us.
Join the Hundreds of Satisfied Customers
Who Love Designer Awnings.